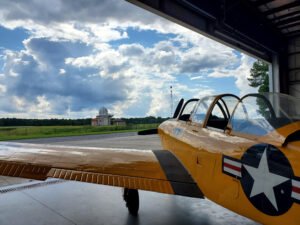 Fly in a REAL Warbird at the UC Air Fair! Courtesy of CAF AirBase Georgia, we have TWO exciting aircraft to choose from their fleet that will be here during the Air Fair!
The Beechcraft T-34 Mentor is an American propeller-driven, single-engined, military trainer aircraft derived from the Beechcraft Model 35 Bonanza. The earlier versions of the T-34, dating from around the late 1940s to the 1950s, were piston-engined. These were eventually succeeded by the upgraded T-34C Turbo-Mentor, powered by a turboprop engine. The T-34 remains in service more than six decades after it was first designed.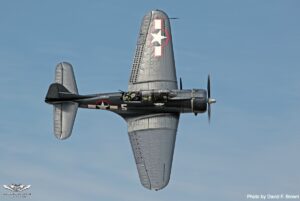 We will also have their SBD-5 Dauntless, the "Hero of the Battle of Midway". The SBD was the only U.S. Navy dive bomber to serve from the beginning of the World War II until the end. Considered the most destructive air weapon in the U.S. Navy arsenal, the SBD sank over 300,000 tons of enemy ships, a greater tonnage of Japanese shipping than any other Allied aircraft during the war! Eighteen were warships, including five aircraft carriers sunk in the battle of the Coral Sea and Midway. It earned the nickname "Slow, But Deadly!"
To schedule a ride during the Air Fair, contact directly at 770-309-5584 email

[email protected]
Please note – this is ONLY to schedule rides for the T34 or the SBD, NOT for balloons or other rides. Ride prices do not include admission.