YOU CAN RIDE IN A HOT AIR BALLOON!
Few things rival the serenity and beauty of hot air balloons, and we have them as a feature of our 2022 Upper Cumberland Air Fair! On Friday night, you can see a spectacular sight as the balloons light up the sky in gorgeous color with in a Night Glow presentation brought to you by Better Cookeville, and you can get a tethered ride or even a full-experience flight in one of these awesome balloons!
PLEASE PLAN TO ARRIVE EARLY ON SATURDAY AND SUNDAY, AS WE EXPECT RIDES TO SELL OUT QUICKLY. The balloons will NOT operate if unsafe wind or weather is present, so please plan accordingly. This is a very weather-dependent activity, and no guarantees are made or implied as to ride availability or times.
BALLOON TETHER RIDES will be only sold onsite Friday, Saturday, and Sunday as long as as wind and weather allow. Rides are $25 per person. Event admission is additional and required!
BALLOON FULL-EXPERIENCE FLIGHTS are sold only online in advance, and are very limited availability. Flights are $500 for single, $900 for couples. The ride will be up to an hour long, times will be arranged in advance via phone or email, and transportation will be available back to the Air Fair from your landing site. Event weekend admission is INCLUDED, and these full-flight tickets ARE REFUNDABLE if weather cancels the flight..
You can buy event and Full-experience Balloon Flights tickets online by CLICKING HERE
 Please note: Weight restrictions will apply to all aircraft flights and rides.
Here's our scheduled balloon lineup (subject to weather):
Friday, Oct 14
1:00 – Gates Open, Balloon Rides will run as weather allows (times are NOT guaranteed, we will operate as wind and weather permit)
1-6 – Food Trucks, Static Displays, Airplane Rides, Helicopter rides, Vendors, Kids activities
1-5 – Military and Warbird Arrivals
4:00 – Airshow
6:30 – Balloon Glow (tethers will continue into the evening as weather allows)
6:30 – Night 5k on the Runway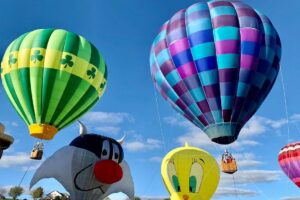 Saturday, Oct 15
8AM – Gates Open
8AM – 5PM – Balloon Tethers and Full Flights (times are NOT guaranteed, we will operate as wind and weather permit)
8AM – 6PM – Food Trucks, Static Displays, Car Show, Airplane Rides, Helicopter rides, Vendors, Kids activities
1PM – Airshow
5:00 – Show Closes
Sunday, Oct 16
8AM – Gates Open
8AM – 5PM – Balloon Tethers and Full Flights (times are NOT guaranteed, we will operate as wind and weather permit)
8AM – 6PM – Food Trucks, Static Displays, Car Show, Airplane Rides, Helicopter rides, Vendors, Kids activities
1PM – Airshow
5:00 – Show Closes
Balloon Glow on Friday brought to you by: