You can fly in a vintage helicopter this October 14-16, 2022 at the Upper Cumberland Air Fair! The Army Aviation Heritage Foundation is scheduled to bring its famous UH-1 "Huey" transport and AH-1 "Cobra" attack helicopter for all three days.
Huey Ride – $110
Cobra Ride – $625
The Bell UH-1 Iroquois, commonly known as the "Huey," was a multipurpose utility helicopter famous for its widespread use during the Vietnam War. Bell developed the powerful helicopter in the mid-1950s and produced more than 16,000 units between 1955 and 1976, over 7,000 of which served in Vietnam. The aircraft were used primarily for troop and cargo transport, medical evacuations, and aerial attack. Hueys have also been used in civilian roles such as firefighting, humanitarian aid efforts, research operations, and search-and-rescue duties.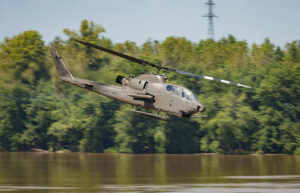 The AH-1 Cobra is the world's first dedicated armed attack helicopter. During the early months of the Vietnam War many helicopters were lost to ground fire. The need for an armed gunship to protect unarmed helicopters quickly became apparent. Heavily armed, highly maneuverable, and quick, the AH-1 proved to be a powerful combatant through the rest of the war. Its precedent-setting design led to many other variations including some two-engine models.
The Army Aviation Heritage Foundation tells the U.S. Army Aviation Story by hosting and participating in Aircraft and Museum Tours, School Programs, Air Shows and other public events across the country. AAHF acquires, restores and maintains historic vintage flying aircraft representing Army Aviation during Vietnam and the Cold War. Honoring the men and women who have served in the U.S. Military and Army Aviation, their "Sky Soldiers" along with dedicated volunteers conduct patriotic flying presentations, public helicopter rides, educational presentations and more.
RIDE RESTRICTIONS:
Physically able to ingress / egress aircraft under own ability without assistance
No health restrictions for flight
Minimum age:
Cobra-16 years old
Huey-5 years old, with parent or guardian
Weight limitations: Aircraft seat belt must be able to fasten securely
Passenger liability release: Parent or guardian must sign release for those under 18